Hello everyone, today we will learn about a customer case of operating tester inverter panel completed by TVM802A mini pick and place machine.
The customer said that small machines like the TVM802A mini smt placer is easy to install, and they don't require a relatively demanding site like the large-scale placement machines. The small machines can be used directly on the desktop, which is very suitable for him.The TVM802 software operating system is also very friendly, and you can start debugging by yourself after a little research.
The placement accuracy is also enough to match the board he developed. Currently, the smallest component he uses is the 0603 package R/C .
Let's take a look at the vido sharing by customer which TVM802A mini pick and place machine operating a Tester Inverter panel.
What is an inverter?
Inverters are used in a variety of settings where they're needed to drive equipment ranging from electric products to large industrial machinery by varying the speed of their motors. They play two principal roles:
Converting direct current (DC) into alternating current (AC)
Although the frequency and other specifics vary by region, AC power sources in principle have constant voltage and frequency. Since different machines have different frequency and voltage requirements, a circuit known as a converter is used to convert AC current from the power grid to a DC current, and then an inverter is used to convert the DC current to an AC current with the frequency and voltage required by the machinery being driven.
Varying the speed of a motor
Inverters can be used to vary the speed of motors. A machine can be difficult to use when its motor operates at a constant speed, which could cause the machine to start moving abruptly or require it to operate at full speed all the time.
Controlling the speed of motors with an inverter allows machinery to be used efficiently.
How are inverters tested?
Several precautions should be borne in mind when carrying out inverter insulation resistance testing and voltage/current measurement.
Insulation resistance testing
Resistance is measured between the terminals and ground while applying a 500 V test voltage, and the measured value is checked to ensure it is at least 5 MΩ. Insulation resistance measurement consists of applying a high voltage and checking the insulation. Be sure to observe the inspection locations and applied voltages specified by the inverter's manufacturer when making measurements.
Secondary-side voltage and current measurement
Since the waveform's frequency varies on the secondary side of the inverter, it's necessary to take the fundamental wave's frequency range into account when choosing a voltmeter and current meter.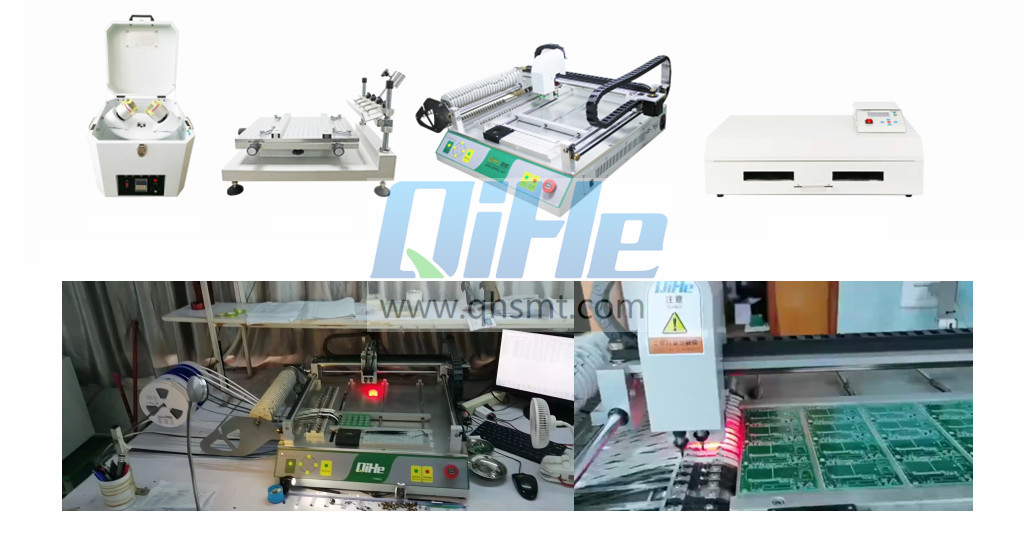 Read more

: TVM802A mini pick and place machine & Tester Inverter panel
About QIHE SMT pick and place machine
QHSMT is an enterprise specializing in the production of SMT equipment, like pick and place machine ,reflow oven,stencil printer ,smt pick and place machine,pnp,pick&place,pcb assembly,smd chip shooter,pnp machine,chip mounter,smt line,welcome to send inquiry
you can choose a reflow oven to meets your need like qfr630,qrf835,qrf1235
stencil printer model qh3040,qp3250,qfa5060
Also we have different kinds of smt pick and place machine like tvm802a,tvm802b,tvm802ax,tvm802bx,tvm802b plus,tvm925s,tvm926s,ql41,qm61,qm62,qm81,qm10
Know more about us https://www.qhsmt.com/about-qihe-smt-equipment/
Follow us on social media https://www.facebook.com/Qihesmt/
WHAT IS SMT PROCESS?
There are mainly three steps in SMT assembly line process flow: solder paste printing, components placement and reflow soldering.
Solder Paste Printing
Its function in SMT line process is to print the solder-free paste on the pads of the PCB to prepare for the soldering of the components. The equipment used is a screen printing machine, located at the forefront of the SMT production line.
Components Placement
Its function is to accurately install the surface mount components on the fixed position of the PCB. The equipment used is a placement machine, located behind the screen printing machine in the SMT production line.
Reflow Soldering
Its function in SMT manufacturing line is to melt the solder paste so that the surface mount components and the PCB board are firmly bonded together. The equipment used is a reflow oven, located behind the placement machine in the fully automatic SMT production line.
WHAT IS SMT pick and place machine?
SMT (Surface Mounted Technology) is a comprehensive system engineering technology, which covers substrates, design, equipment, components, assembly processes, production accessories and management. When it comes to SMT pick and place machines, the automatic SMT production line requires automatic loading and unloading machine, automatic solder paste printing machine, placement machine, reflow soldering machine, AOI inspection equipment, connecting table, etc. For these SMT assembly line equipment, Qihe SMT can offer you machines in prototype SMT line, small SMT production line, mass production SMT line at low SMT line cost. Contact us now if you are interested.
WHAT IS SMT ASSEMBLY LINE?
With the development of technology, future electronic products will be lighter, smaller and thinner. Traditional assembly technology can no longer meet the requirements of high-precision and high-density assembly. A new type of PCB assembly technology-SMT (Surface Mount Technology) has emerged. SMT Assembly is the use of automated machines to assemble electronic components on the surface of the circuit board. Its density, high speed, standardization and other characteristics occupies an absolute advantage in the field of circuit assembly technology. In addition, SMT assembly has a wide range of uses.