Today our technical engineer arranged TVM926S smt machine door-to-door service for a customer.
door to door delivery is still the most popular way of receiving goods. Although there are now multiple forms of receiving goods, people want to grasp the "right to choose to receive goods." In terms of door-to-door delivery, in addition to fast speed and professional packaging, people are also very concerned about "the convenience of receiving the goods", especially customers expect technical engineers to have enough patience and professional services. It shows that good service has become the next turning point in the development of the SMT industry.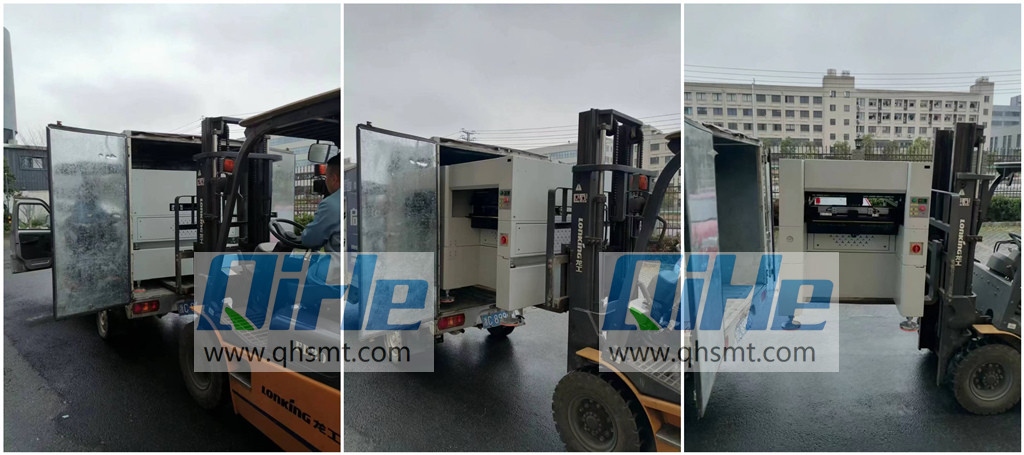 Brief of TVM926S small automatic pick and place machine
The TVM926S smt pick and place machine is designing from the TVM926 model and combined the technology from QM61 series.
It increased the hardware like the flight camera,the servo driver and motor,the TBI screw rod,and the automatic transfer rail .
Upgraded the software functional such as the component library,the visual surveillance,the safety alerts,the fault previously warning .
Can handling special-shaped components, BGA, 0201 inch package.
X Y axis adopts servo motor, speed of up to 9500 components per hour (CPH).
Data of TVM926S small automatic pick and place machine
Model
TVM926S
Max applicable PCB
50*50mm~350x350mm
XY moving range
550*700mm
Z moving range
±15mm
Placement head quantity
4
Mounting capability
Vision Off: 9500pcs/h
Vision On: 6500pcs/h
Mounting accuracy
0.025mm
Applicable components
0201,0402,0603,0805,sop8 etc.
Components supply
Tape reel. bulk package(IC)tubes
PCB transfer direction
Left→Right
Control System
servo motor+TBI Screw Rod
Tape width
8mm. 12mm. 16mm. 24mm
Feeders loading ability
63 slots (YAMAHA Feeder is available)
Machine dimension
L1200xW1440xH920mm
Visual camera
1 PCB inspection camera , 1 Flying camera
Visual camera(down)
Automatic identify the mark point
Visual camera(up)
Automatic adjust the offset
Vacuum pump quality
External air pump
Power supply
AC220V
Average working Power
360W
Gross weight
300KG
Packing size
1.60CBM
Read more

: TVM926S door to door delivery service case
About QIHE SMT pick and place machine
QHSMT is an enterprise specializing in the production of SMT equipment, like pick and place machine ,reflow oven,stencil printer ,smt pick and place machine,pnp,pick&place,pcb assembly,smd chip shooter,pnp machine,chip mounter,smt line,welcome to send inquiry
you can choose a reflow oven to meets your need like qfr630,qrf835,qrf1235
stencil printer model qh3040,qp3250,qfa5060
Also we have different kinds of smt pick and place machine like tvm802a,tvm802b,tvm802ax,tvm802bx,tvm802b plus,tvm925s,tvm926s,ql41,qm61,qm62,qm81,qm10
Know more about us https://www.qhsmt.com/about-qihe-smt-equipment/
Follow us on social media https://www.facebook.com/Qihesmt/
WHAT IS SMT PROCESS?
There are mainly three steps in SMT assembly line process flow: solder paste printing, components placement and reflow soldering.
Solder Paste Printing
Its function in SMT line process is to print the solder-free paste on the pads of the PCB to prepare for the soldering of the components. The equipment used is a screen printing machine, located at the forefront of the SMT production line.
Components Placement
Its function is to accurately install the surface mount components on the fixed position of the PCB. The equipment used is a placement machine, located behind the screen printing machine in the SMT production line.
Reflow Soldering
Its function in SMT manufacturing line is to melt the solder paste so that the surface mount components and the PCB board are firmly bonded together. The equipment used is a reflow oven, located behind the placement machine in the fully automatic SMT production line.
WHAT IS SMT pick and place machine?
SMT (Surface Mounted Technology) is a comprehensive system engineering technology, which covers substrates, design, equipment, components, assembly processes, production accessories and management. When it comes to SMT pick and place machines, the automatic SMT production line requires automatic loading and unloading machine, automatic solder paste printing machine, placement machine, reflow soldering machine, AOI inspection equipment, connecting table, etc. For these SMT assembly line equipment, Qihe SMT can offer you machines in prototype SMT line, small SMT production line, mass production SMT line at low SMT line cost. Contact us now if you are interested.
WHAT IS SMT ASSEMBLY LINE?
With the development of technology, future electronic products will be lighter, smaller and thinner. Traditional assembly technology can no longer meet the requirements of high-precision and high-density assembly. A new type of PCB assembly technology-SMT (Surface Mount Technology) has emerged. SMT Assembly is the use of automated machines to assemble electronic components on the surface of the circuit board. Its density, high speed, standardization and other characteristics occupies an absolute advantage in the field of circuit assembly technology. In addition, SMT assembly has a wide range of uses.