Today author from qihe smt pick and place machine sharing you with a customer case story . Customer Sharing TVM802A PNP by an engineering company from from UK diy pick and place machine
Original link
#engineering company #smoke control industry
#UK #Britain #unitedkingdom
#TVM802A #PNP #SMTline #pnp machine
#3d printed strip feeders #compact form factor #complex LIN bus transceivers
#smt #pcb printer #reflow oven #pnpmachine #pcbuild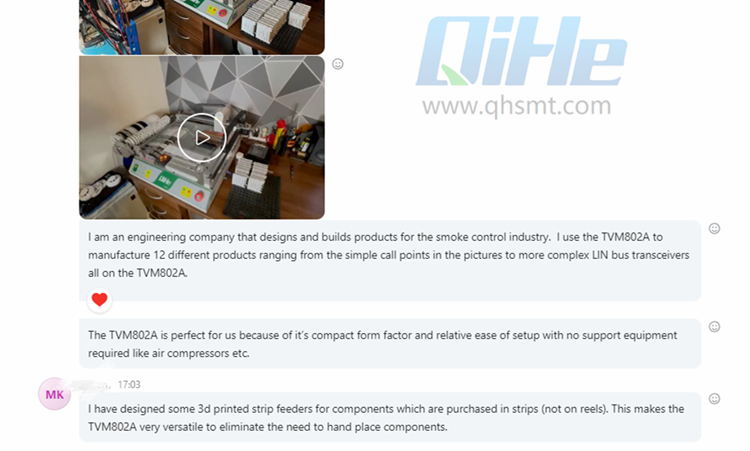 let's hearing about Martin's story:
"I am an engineering company that designs and builds products for the smoke control industry. I use the TVM802A to manufacture 12 different products ranging from the simple call points in the pictures to more complex LIN bus transceivers all on the TVM802A.
The TVM802A is perfect for us because of it's compact form factor and relative ease of setup with no support equipment required like air compressors etc.
I have designed some 3d printed strip feeders for components which are purchased in strips (not on reels). This makes the TVM802A very versatile to eliminate the need to hand place components."v
what is your opinion about TVM802 pnp machine?
Feel free to leave us a message to share your stories and comments.
thanks for watching ,have a nice day !
Read more

: Customer Sharing #TVM802A PNP By An Engineering Company From UK
QHSMT is an enterprise specializing in the production of SMT equipment, like pick and place machine ,reflow oven,stencil printer ,smt pick and place machine,pnp,pick&place,pcb assembly,smd chip shooter,pnp machine,chip mounter,smt line,welcome to send inquiry
you can choose a reflow oven to meets your need like qfr630,qrf835,qrf1235
stencil printer model qh3040,qp3250,qfa5060
Also we have different kinds of smt pick and place machine like tvm802a,tvm802b,tvm802ax,tvm802bx,tvm925s,tvm926s,ql41,qm61,qm62,qm81,qm10