Dear all customers of qihe smt pick and place machine :
Since 2022 Christmas is almost behind the door.
Sending the most sincerely blessings and wishes from Qihe team .
Hope your company moving on brightly, sending our best wishes to you and your friends .
Also wish you and your family happiness and health .
During the X-mas holiday, we still service online,reply the email, afford quotation and confirm the PI. We will arrange send the products when it finished.
Our new products smt pick and place machine QM10 ,TVM925S ,TVM926S and TVM802 series on promotions in new year season , welcome your inquire.
Because of the current epidemic situation in China has become serious recently. all ways transportation would been greatly delayed.
New Orders currently planned will be arranged after Chinese New Year starts from early February.If you have your own logistics and can arrange transportation, we will also fully cooperate with the work.
So if you have decided, you can place your order with our sales managers.

We will try our best to complete the orders which placed before Christmas, if the logistics is delayed, I hope you can understand our situation and communicate the date with the customer.

Pls arrange your purchasing plan. Thanks for your cooperation. Any problems, you could contact us.
Merry Christmas to your all !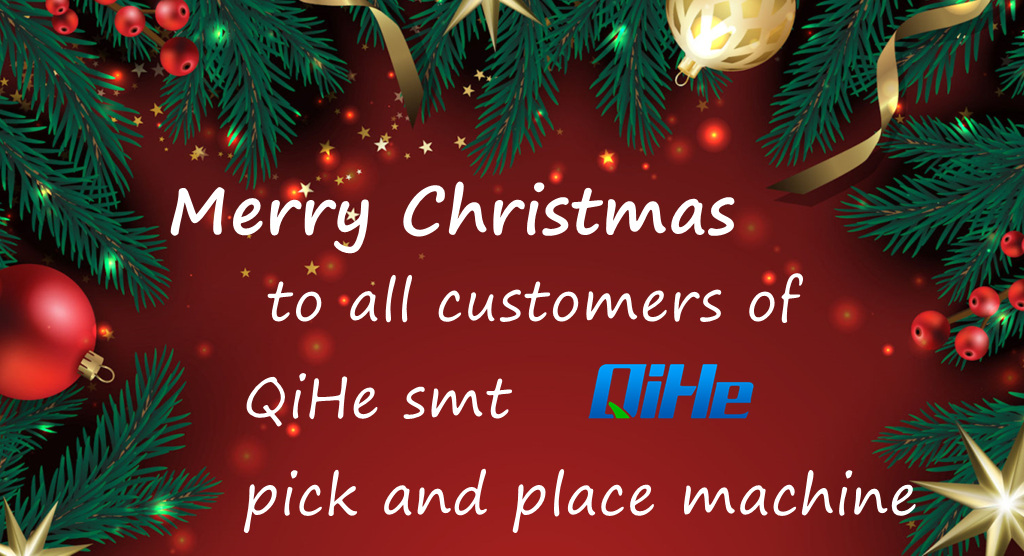 Read more

: 2022 Merry Christmas and best wishes
QHSMT is an enterprise specializing in the production of SMT equipment, like pick and place machine ,reflow oven,stencil printer ,smt pick and place machine,pnp,pick&place,pcb assembly,smd chip shooter,pnp machine,chip mounter,smt line,welcome to send inquiry
you can choose a reflow oven to meets your need like qfr630,qrf835,qrf1235
stencil printer model qh3040,qp3250,qfa5060
Also we have different kinds of smt pick and place machine like tvm802a,tvm802b,tvm802ax,tvm802bx,tvm925s,tvm926s,ql41,qm61,qm62,qm81,qm10
WHAT IS SMT ASSEMBLY LINE?
With the development of technology, future electronic products will be lighter, smaller and thinner. Traditional assembly technology can no longer meet the requirements of high-precision and high-density assembly. A new type of PCB assembly technology-SMT (Surface Mount Technology) has emerged. SMT Assembly is the use of automated machines to assemble electronic components on the surface of the circuit board. Its density, high speed, standardization and other characteristics occupies an absolute advantage in the field of circuit assembly technology. In addition, SMT assembly has a wide range of uses.
WHAT IS SMT pick and place machine?
SMT (Surface Mounted Technology) is a comprehensive system engineering technology, which covers substrates, design, equipment, components, assembly processes, production accessories and management. When it comes to SMT pick and place machines, the automatic SMT production line requires automatic loading and unloading machine, automatic solder paste printing machine, placement machine, reflow soldering machine, AOI inspection equipment, connecting table, etc. For these SMT assembly line equipment, Qihe SMT can offer you machines in prototype SMT line, small SMT production line, mass production SMT line at low SMT line cost. Contact us now if you are interested.
WHAT IS SMT PROCESS?
There are mainly three steps in SMT assembly line process flow: solder paste printing, components placement and reflow soldering.
Solder Paste Printing
Its function in SMT line process is to print the solder-free paste on the pads of the PCB to prepare for the soldering of the components. The equipment used is a screen printing machine, located at the forefront of the SMT production line.
Components Placement
Its function is to accurately install the surface mount components on the fixed position of the PCB. The equipment used is a placement machine, located behind the screen printing machine in the SMT production line.
Reflow Soldering
Its function in SMT manufacturing line is to melt the solder paste so that the surface mount components and the PCB board are firmly bonded together. The equipment used is a reflow oven, located behind the placement machine in the fully automatic SMT production line.