Today author from QiHe smt pick and place machine sharing you with Causes and solutions of virtual welding in SMT processing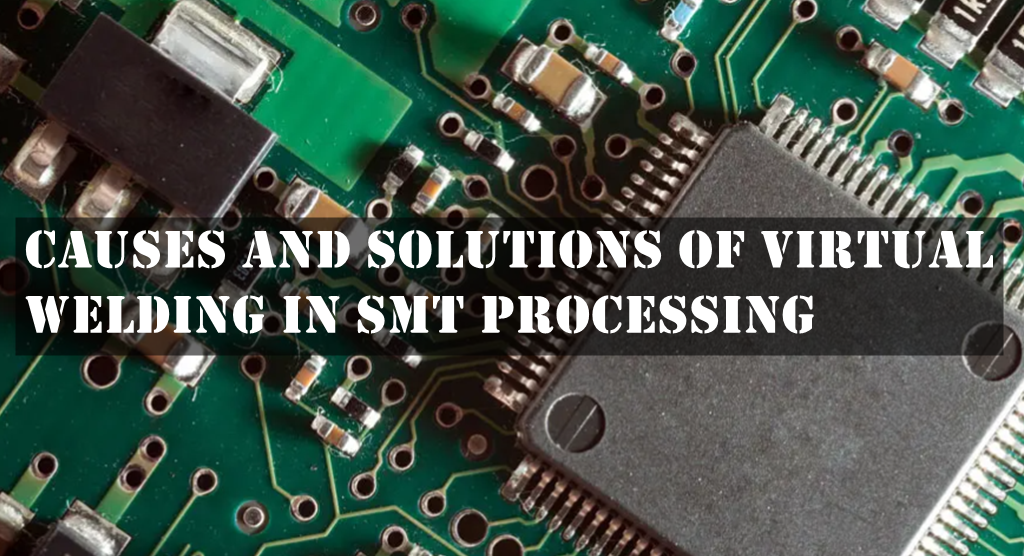 a. The pad design is flawed.
The presence of through holes in the pad is a major disadvantage of PCB design.
Don't use it unless you can't,
Through holes will cause solder loss to form a lack of solder;
Pad spacing and area also need standard matching,
Otherwise, the design should be corrected as soon as possible.
b. The PCB board has oxidation phenomenon, that is, the pad is black and not bright.
If there is oxidation, you can use an eraser to remove the oxide layer to make it shine again.
If the PCB board is damp, it can be dried in a drying box if suspected.
The PCB board has oil stains, sweat stains and other pollution,
At this time, it should be cleaned with absolute ethanol.
c. PCB with solder paste printed, the solder paste is scratched, rubbed,
Make the amount of solder paste on the relevant pad less, make the solder starved.
It should be replenished in time.
The way to make up can be made up with a glue dispenser or with a bamboo stick.
QHSMT is an enterprise specializing in the production of SMT equipment, like pick and place machine ,reflow oven,stencil printer ,welcome to send inquiry.
d. SMD (Surface Mount Components) are of poor quality, expired, oxidized, deformed, and form a virtual solder joint.
This is the more common reason.
The oxidized components are black and not bright. The melting point of oxides increases,
At this moment, it can be welded with more than 300 degrees of electric ferrochrome and rosin-type flux,
However, it is difficult to melt with SMT reflow soldering at more than 200 degrees and the use of less corrosive no-clean solder paste.
Therefore, the oxidized SMD is not suitable for reflow soldering.
When buying components, be sure to check whether there is oxidation.
And use it in time after you buy it back.
Similarly, oxidized solder paste cannot be used.
Surface mount components with multiple legs,
its legs are slender,
It is easily deformed under the effect of external force,
Once deformed, there will definitely be a phenomenon of virtual welding or lack of welding.
Therefore, it is necessary to carefully check and repair in time after welding before pasting.
Read more

: Causes and solutions of virtual welding in SMT processing
QHSMT is an enterprise specializing in the production of SMT equipment, like pick and place machine ,reflow oven,stencil printer ,smt pick and place machine,pnp,pick&place,pcb assembly,smd chip shooter,pnp machine,chip mounter,smt line,welcome to send inquiry
you can choose a reflow oven to meets your need like qfr630,qrf835,qrf1235
stencil printer model qh3040,qp3250,qfa5060
Also we have different kinds of smt pick and place machine like tvm802a,tvm802b,tvm802ax,tvm802bx,tvm925s,tvm926s,ql41,qm61,qm62,qm81,qm10
WHAT IS SMT pick and place machine?
SMT (Surface Mounted Technology) is a comprehensive system engineering technology, which covers substrates, design, equipment, components, assembly processes, production accessories and management. When it comes to SMT pick and place machines, the automatic SMT production line requires automatic loading and unloading machine, automatic solder paste printing machine, placement machine, reflow soldering machine, AOI inspection equipment, connecting table, etc. For these SMT assembly line equipment, Qihe SMT can offer you machines in prototype SMT line, small SMT production line, mass production SMT line at low SMT line cost. Contact us now if you are interested.
WHAT IS SMT ASSEMBLY LINE?
With the development of technology, future electronic products will be lighter, smaller and thinner. Traditional assembly technology can no longer meet the requirements of high-precision and high-density assembly. A new type of PCB assembly technology-SMT (Surface Mount Technology) has emerged. SMT Assembly is the use of automated machines to assemble electronic components on the surface of the circuit board. Its density, high speed, standardization and other characteristics occupies an absolute advantage in the field of circuit assembly technology. In addition, SMT assembly has a wide range of uses.
WHAT IS SMT PROCESS?
There are mainly three steps in SMT assembly line process flow: solder paste printing, components placement and reflow soldering.
Solder Paste Printing
Its function in SMT line process is to print the solder-free paste on the pads of the PCB to prepare for the soldering of the components. The equipment used is a screen printing machine, located at the forefront of the SMT production line.
Components Placement
Its function is to accurately install the surface mount components on the fixed position of the PCB. The equipment used is a placement machine, located behind the screen printing machine in the SMT production line.
Reflow Soldering
Its function in SMT manufacturing line is to melt the solder paste so that the surface mount components and the PCB board are firmly bonded together. The equipment used is a reflow oven, located behind the placement machine in the fully automatic SMT production line.