In early February, QiHe will join a three-day summit : MAHATech An Exclusive Industrial Exhibition.We will displaying the popular models PNP smt pick and place machine QM62 6heads placement machine compact type ,TVM802AX plus desktop smt pick and place machine and reflow oven machine such as QRF320 ,etc. At thpresent, we provide professional smt service providers in India market , smt production line layout,Sales and after-sales service of smt equipment,technical guidance.
The following information is the exhibition details:
Exhibition: the MAHATech exhibition Pune 2023
Exhibitor:Qihe India Pvt Ltd & MR technology
Stall Number: A-60
Exhibition Date: 2023- February- 9th to 12th
Location: New Agriculture College Ground,Shivaji Nagar,Pune,India
We cordially welcome you to enjoy our excellent service.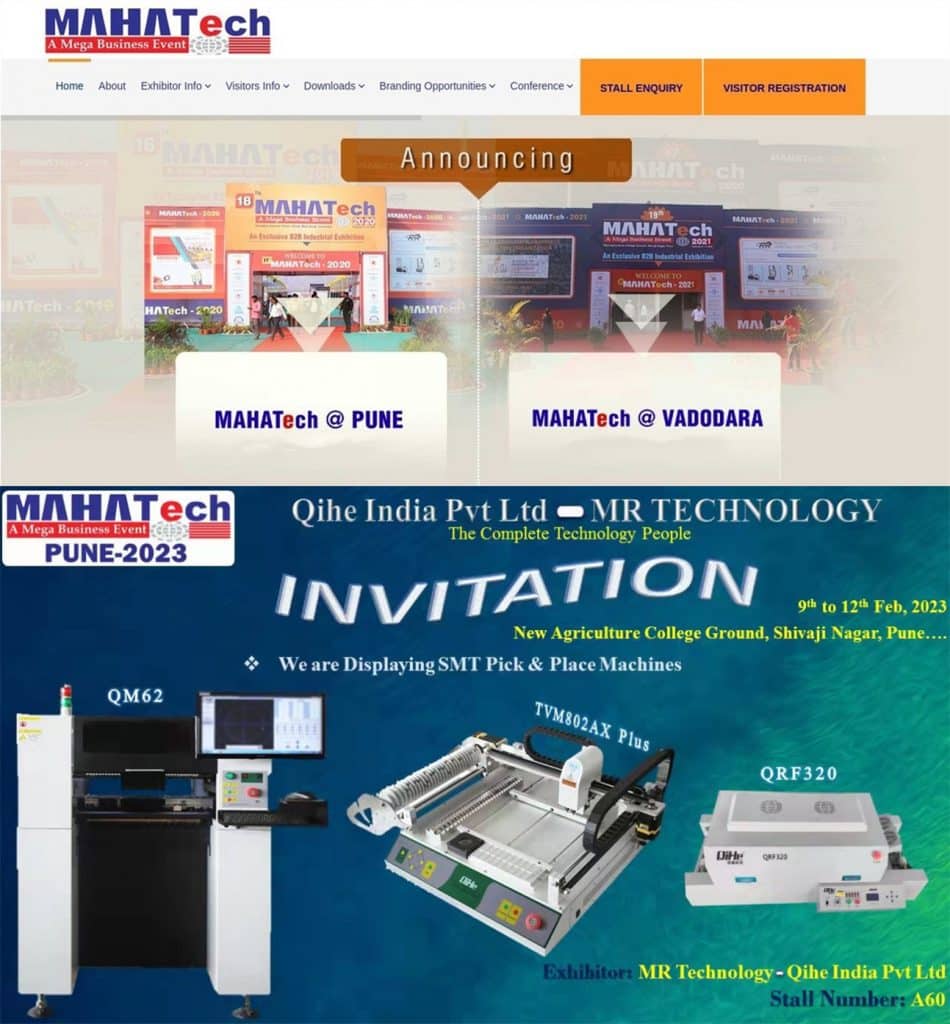 Exhibition Introduction
MAHATech An Exclusive Industrial Exhibition
After the tremendous success of 18 editions of MAHATech exhibition, we are now organising MAHATech 2023 in Pune & Vadodara.
Pune – the cultural capital of Maharashtra and Vadodara – the cultural capital of Gujarat have many things in common between them. Both the cities have witnessed a huge industrial growth since the last decade and are thriving as manufacturing hubs of the respective states.
MAHATech will offer an ideal platform for you to explore the business potential of Maharashtra and Gujarat.
In Mahatech exhibitions, we are organising the conferences like Vendor Development Meet and Digital Marketing for SMEs, wherein we plan to create a meaningful interactive platform for industrial buyers and sellers.
The industry buyers and sellers look forward to MAHATech as the most ideal platform and the preferred meeting point for the industry.
We at MAHATech have always extended our support to you in meeting these objectives. It is no wonder, MAHATech has emerged as the Event The industry looks forward to, as enhancement of their marketing tools.
MAHATech is organised by Marathe Infotech Pvt. Ltd., a 40 year old ISO 9001:2015 Certified Company.
MAHATech has the distinction of having industry-specific focused product pavilions, which offer the most convenient & easy to locate options for buyers, to seek desired products & services of companies in the tradeshow.
Read more

: QiHe joined the MAHATech exhibition Pune India 2023
QHSMT is an enterprise specializing in the production of SMT equipment, like pick and place machine ,reflow oven,stencil printer ,smt pick and place machine,pnp,pick&place,pcb assembly,smd chip shooter,pnp machine,chip mounter,smt line,welcome to send inquiry
you can choose a reflow oven to meets your need like qfr630,qrf835,qrf1235
stencil printer model qh3040,qp3250,qfa5060
Also we have different kinds of smt pick and place machine like tvm802a,tvm802b,tvm802ax,tvm802bx,tvm925s,tvm926s,ql41,qm61,qm62,qm81,qm10
WHAT IS SMT pick and place machine?
SMT (Surface Mounted Technology) is a comprehensive system engineering technology, which covers substrates, design, equipment, components, assembly processes, production accessories and management. When it comes to SMT pick and place machines, the automatic SMT production line requires automatic loading and unloading machine, automatic solder paste printing machine, placement machine, reflow soldering machine, AOI inspection equipment, connecting table, etc. For these SMT assembly line equipment, Qihe SMT can offer you machines in prototype SMT line, small SMT production line, mass production SMT line at low SMT line cost. Contact us now if you are interested.
WHAT IS SMT ASSEMBLY LINE?
With the development of technology, future electronic products will be lighter, smaller and thinner. Traditional assembly technology can no longer meet the requirements of high-precision and high-density assembly. A new type of PCB assembly technology-SMT (Surface Mount Technology) has emerged. SMT Assembly is the use of automated machines to assemble electronic components on the surface of the circuit board. Its density, high speed, standardization and other characteristics occupies an absolute advantage in the field of circuit assembly technology. In addition, SMT assembly has a wide range of uses.
WHAT IS SMT PROCESS?
There are mainly three steps in SMT assembly line process flow: solder paste printing, components placement and reflow soldering.
Solder Paste Printing
Its function in SMT line process is to print the solder-free paste on the pads of the PCB to prepare for the soldering of the components. The equipment used is a screen printing machine, located at the forefront of the SMT production line.
Components Placement
Its function is to accurately install the surface mount components on the fixed position of the PCB. The equipment used is a placement machine, located behind the screen printing machine in the SMT production line.
Reflow Soldering
Its function in SMT manufacturing line is to melt the solder paste so that the surface mount components and the PCB board are firmly bonded together. The equipment used is a reflow oven, located behind the placement machine in the fully automatic SMT production line.