Today author from QiHe smt equipments pick and place machine sharing you with Several practical tips for PCB layout can help you solve design problems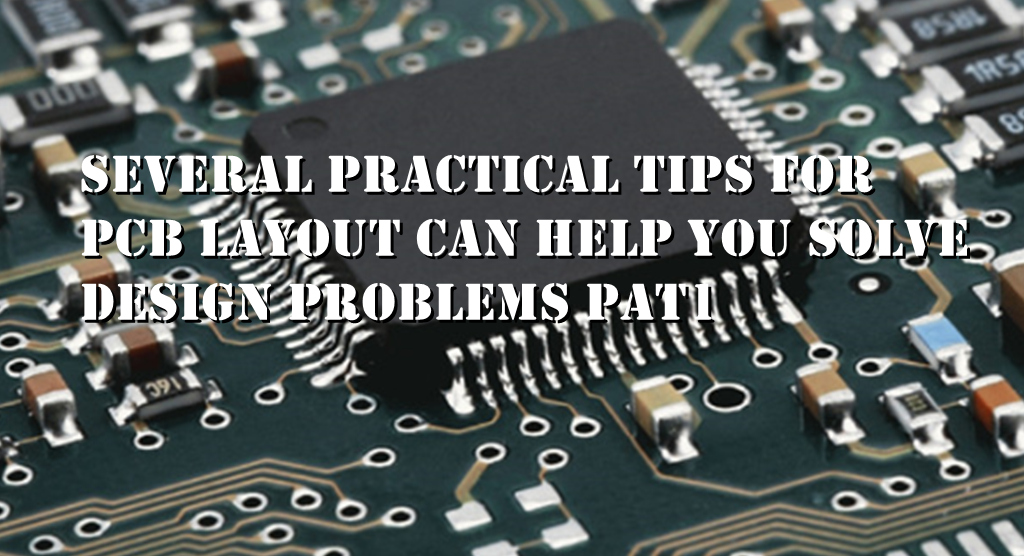 The edges of the input end and the output end should avoid being adjacent to and parallel to each other.
so as not to cause reflection interference. If necessary, the ground wire should be added for isolation.
The wiring of two adjacent layers should be perpendicular to each other.
Parallel simply creates parasitic coupling.
Add a decoupling capacitor between the power supply and the ground wire.
Widen the width of power supply and ground wire as far as possible,
Most preferably, the ground wire is wider than the power wire,
Their relationship is: ground wire>power wire>signal wire,
Usually the signal line width is: 0.2~0.3mm, the most thinner width can reach 0.05~0.07mm,
The power line is 1.2~2.5mm
Co-ground processing of digital circuits and analog circuits,
The frequency of the digital circuit is high, and the sensitivity of the analog circuit is strong.
For the signal line, the high-frequency signal line should be kept away from sensitive analog circuit equipment as much as possible.
For the ground wire, the entire PCB only needs one node to the outside world.
Therefore, the problem of digital and analog common ground must be dealt with inside the PCB.
However, the digital ground and the analog ground are actually separated inside the board, and they are not connected to each other.
It is only at the interface where the PCB is connected to the outside world (such as a plug, etc.).
The digital ground and the analog ground are slightly shorted,
Note that there is only one articulation point.
There are also different grounds on the PCB, which is determined by the system design.
QHSMT is an enterprise specializing in the production of SMT equipment, like pick and place machine ,reflow oven,stencil printer ,welcome to send inquiry.
Shorten the connection between the high-frequency components as much as possible,
Try to reduce their distribution parameters and mutual electromagnetic interference.
Susceptible components cannot be placed too close to each other,
Input and output components should be kept as far away as possible.
There may be a higher potential difference between certain components or wires,
The distance between them should be increased,
In order to avoid accidental short circuit caused by discharge.
Components with high voltage should be placed in places that are not easily accessible by hand during debugging.
Circuits operating at high frequencies,
To consider the distribution parameters between components.
In general circuits, components should be placed in parallel as much as possible.
In this way, it is not only beautiful, but also simple to install and weld, and easy to mass produce.
Let's talk about this today
In the next article we will continue to discuss more techniques
Read more

: Several practical tips for PCB layout can help you solve design problems pat1
QHSMT is an enterprise specializing in the production of SMT equipment, like pick and place machine ,reflow oven,stencil printer ,smt pick and place machine,pnp,pick&place,pcb assembly,smd chip shooter,pnp machine,chip mounter,smt line,welcome to send inquiry
you can choose a reflow oven to meets your need like qfr630,qrf835,qrf1235
stencil printer model qh3040,qp3250,qfa5060
Also we have different kinds of smt pick and place machine like tvm802a,tvm802b,tvm802ax,tvm802bx,tvm925s,tvm926s,ql41,qm61,qm62,qm81,qm10
WHAT IS SMT ASSEMBLY LINE?
With the development of technology, future electronic products will be lighter, smaller and thinner. Traditional assembly technology can no longer meet the requirements of high-precision and high-density assembly. A new type of PCB assembly technology-SMT (Surface Mount Technology) has emerged. SMT Assembly is the use of automated machines to assemble electronic components on the surface of the circuit board. Its density, high speed, standardization and other characteristics occupies an absolute advantage in the field of circuit assembly technology. In addition, SMT assembly has a wide range of uses.
WHAT IS SMT pick and place machine?
SMT (Surface Mounted Technology) is a comprehensive system engineering technology, which covers substrates, design, equipment, components, assembly processes, production accessories and management. When it comes to SMT pick and place machines, the automatic SMT production line requires automatic loading and unloading machine, automatic solder paste printing machine, placement machine, reflow soldering machine, AOI inspection equipment, connecting table, etc. For these SMT assembly line equipment, Qihe SMT can offer you machines in prototype SMT line, small SMT production line, mass production SMT line at low SMT line cost. Contact us now if you are interested.
WHAT IS SMT PROCESS?
There are mainly three steps in SMT assembly line process flow: solder paste printing, components placement and reflow soldering.
Solder Paste Printing
Its function in SMT line process is to print the solder-free paste on the pads of the PCB to prepare for the soldering of the components. The equipment used is a screen printing machine, located at the forefront of the SMT production line.
Components Placement
Its function is to accurately install the surface mount components on the fixed position of the PCB. The equipment used is a placement machine, located behind the screen printing machine in the SMT production line.
Reflow Soldering
Its function in SMT manufacturing line is to melt the solder paste so that the surface mount components and the PCB board are firmly bonded together. The equipment used is a reflow oven, located behind the placement machine in the fully automatic SMT production line.