Let us discuss the questions that customers are often encountered when purchasing a smt pick and place machine (placement machine). About the smt air supply of pick&place machine. First of all, the current design of models with 4 heads or more requires an independent air pump for air supply. The demand standard of the air source, I will mention it in the following qihe pick and place machine customer case.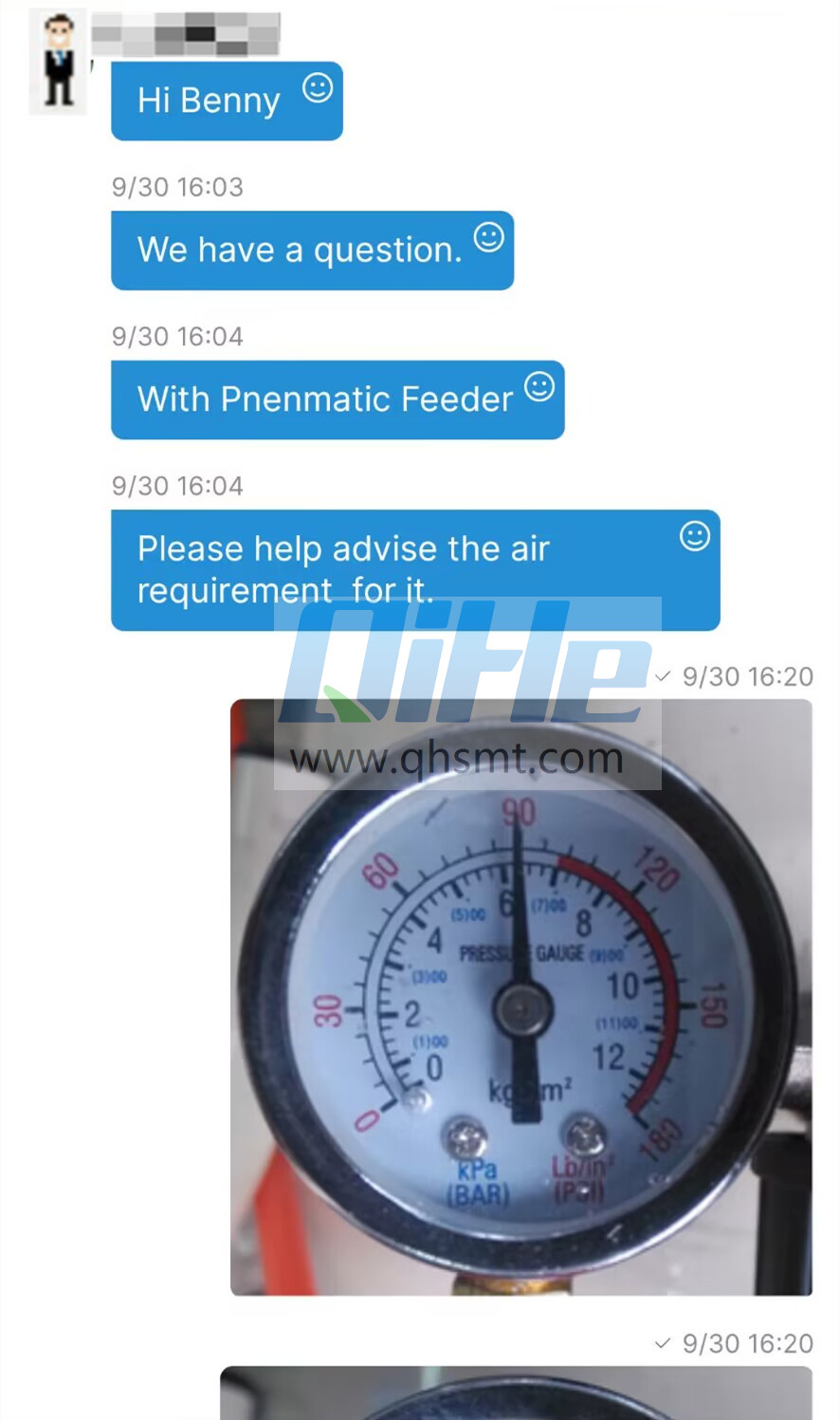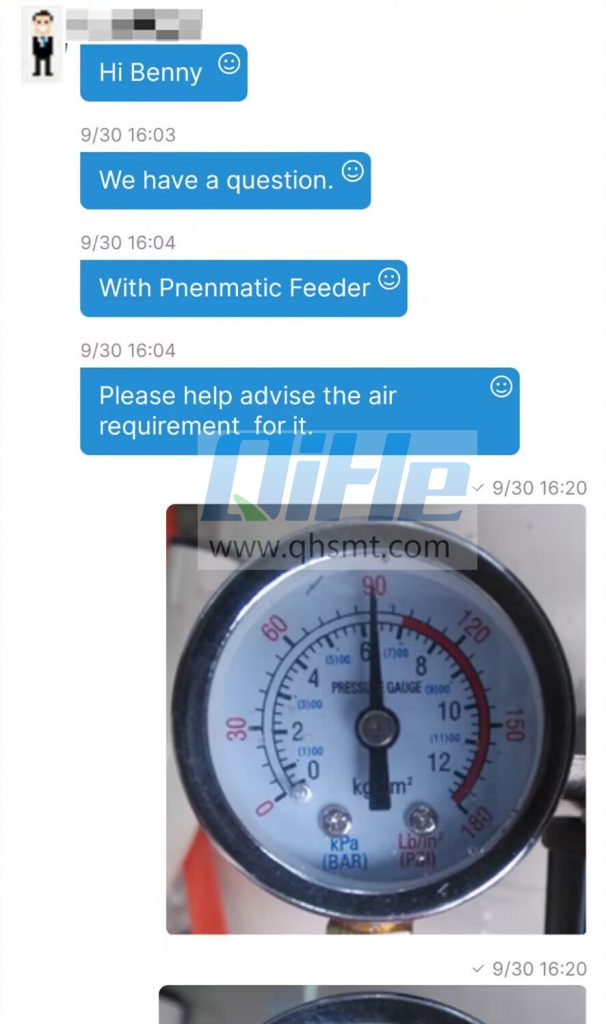 external vacumm pump prepare for Pick and place machine
about external vacumm pump :
When you get the machine, you need to prepare an air compressor
(1) Parameter requirements for air compressor:
a. Air tank capacity: greater than or equal to 55L
b. Exhaust volume: greater than or equal to 95L / min
c. Maximum pressure: greater than or equal to 0.7MPa (100psi)
d. air tube 10 mm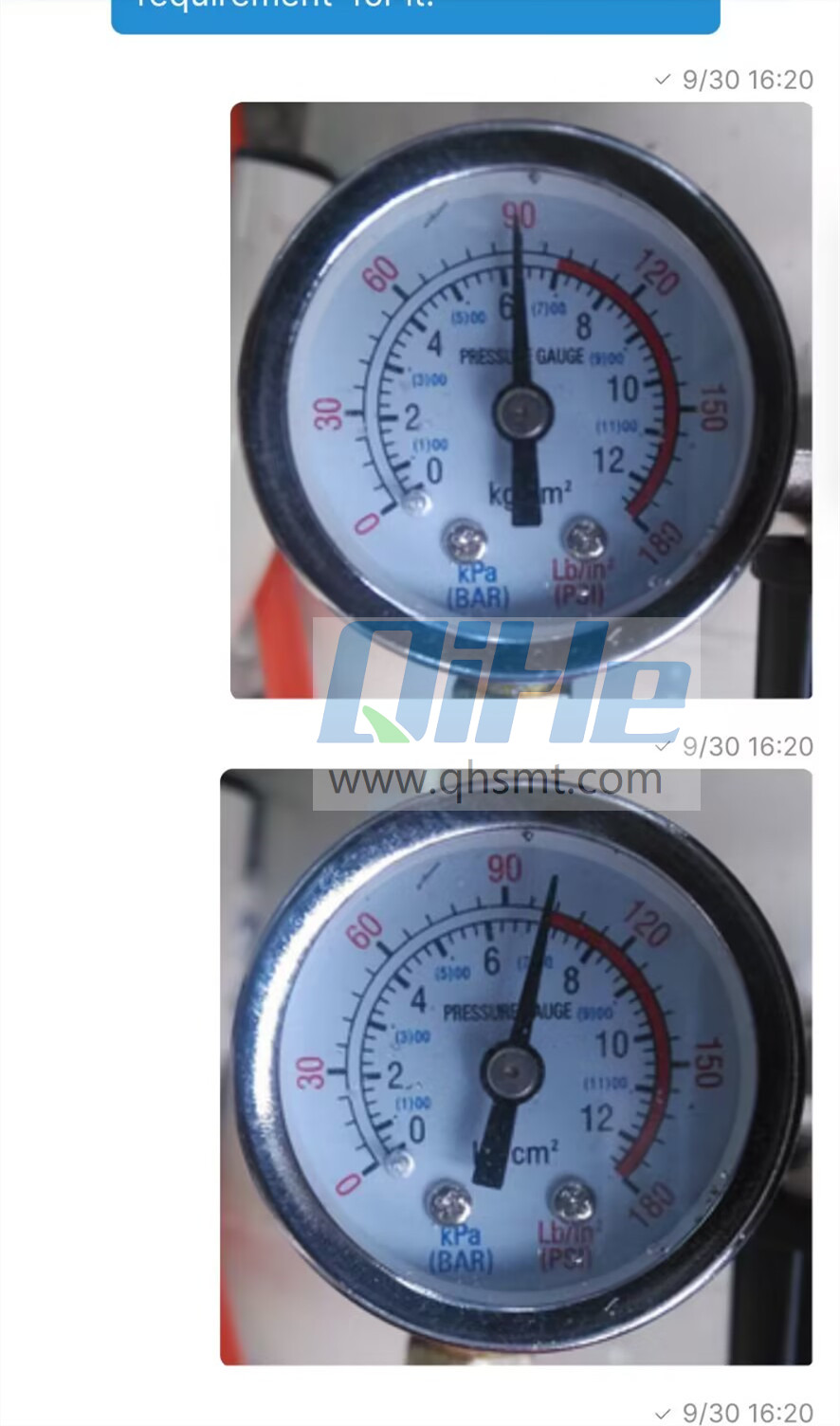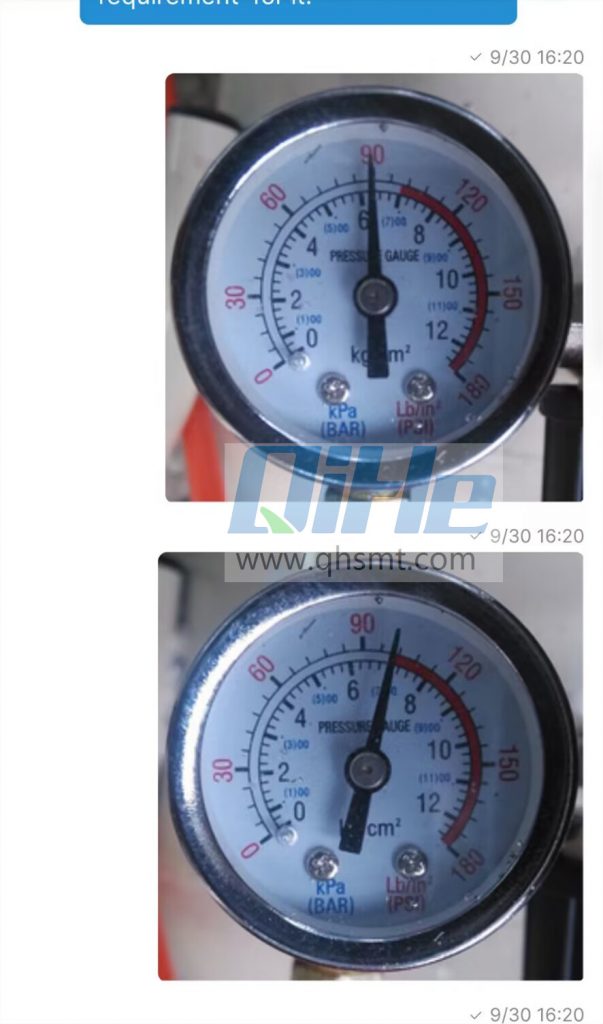 (2) Commissioning of air compressor;
Start when the air compressor is adjusted to 6.2 Bar
6.2 bars approximately equal to 89.9psi
2. Stop when the air compressor is adjusted to 7.3 Bar
7.3 bars approximately equal to 105.8 psi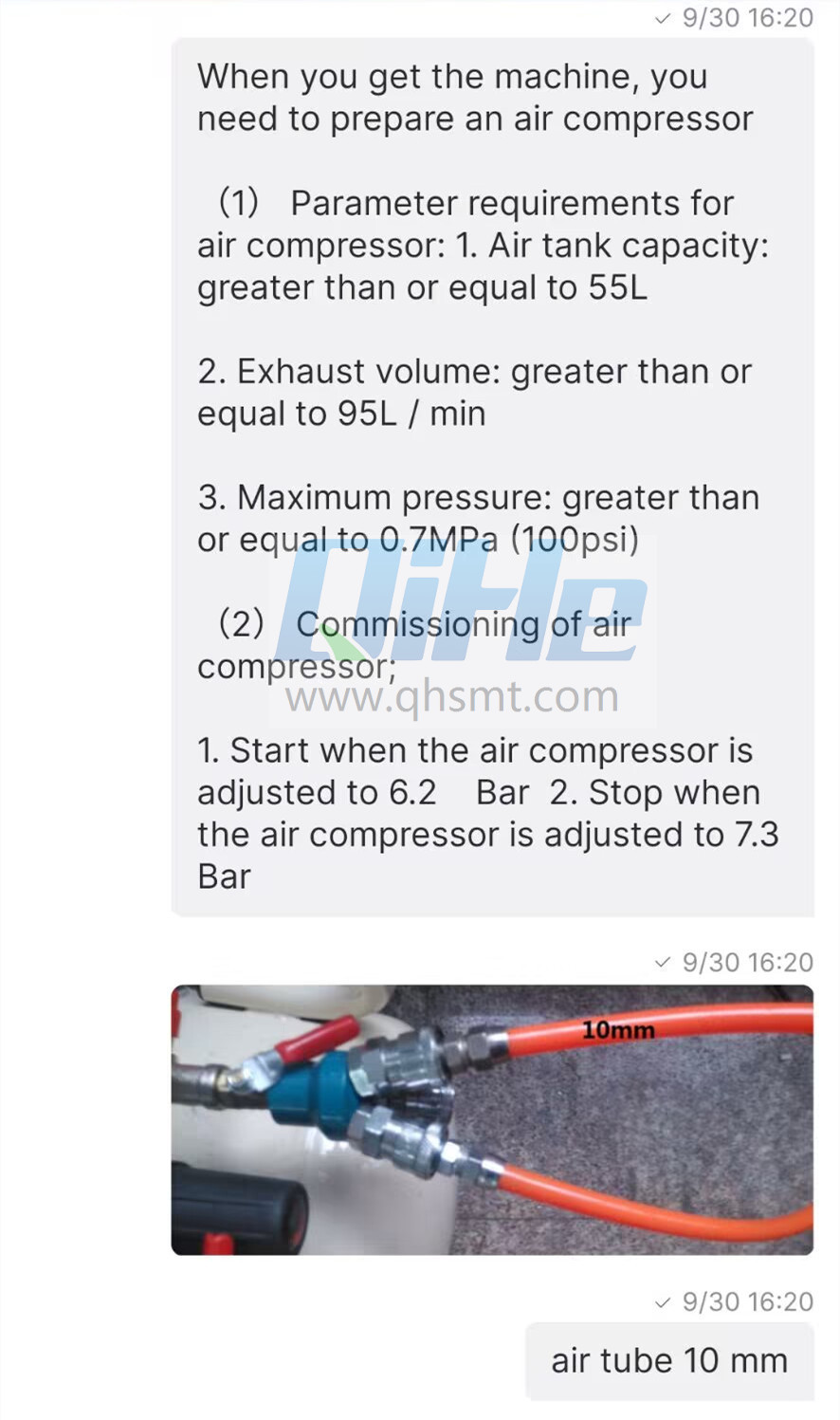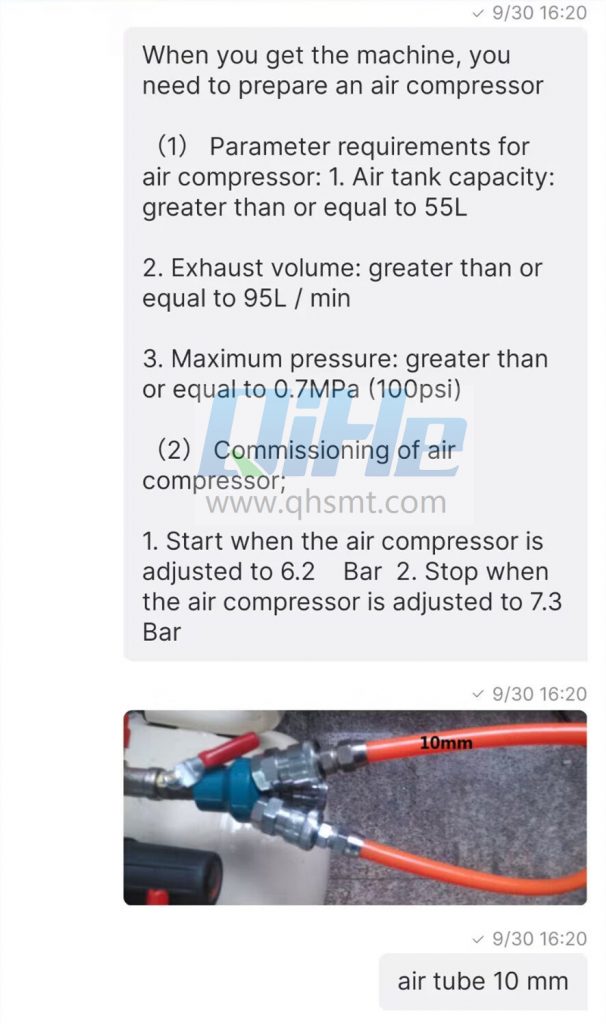 The oil-water separator is to further filter the compressed air output by the air pump. Because the humid air containing moisture will easily lead to the blowing of the placement head and the main cause of feeding failure of the feeder. Different models are fixed on different locations .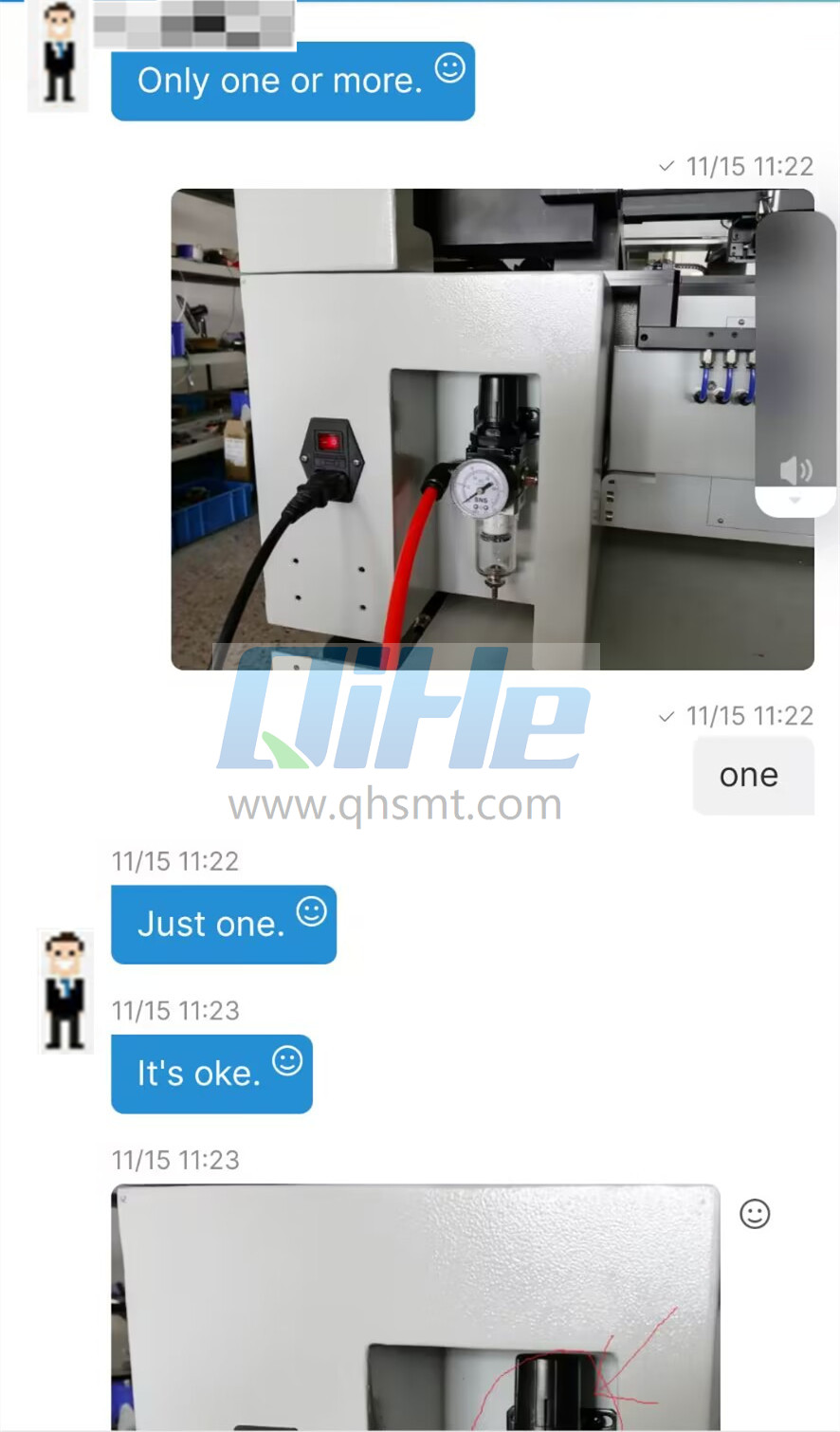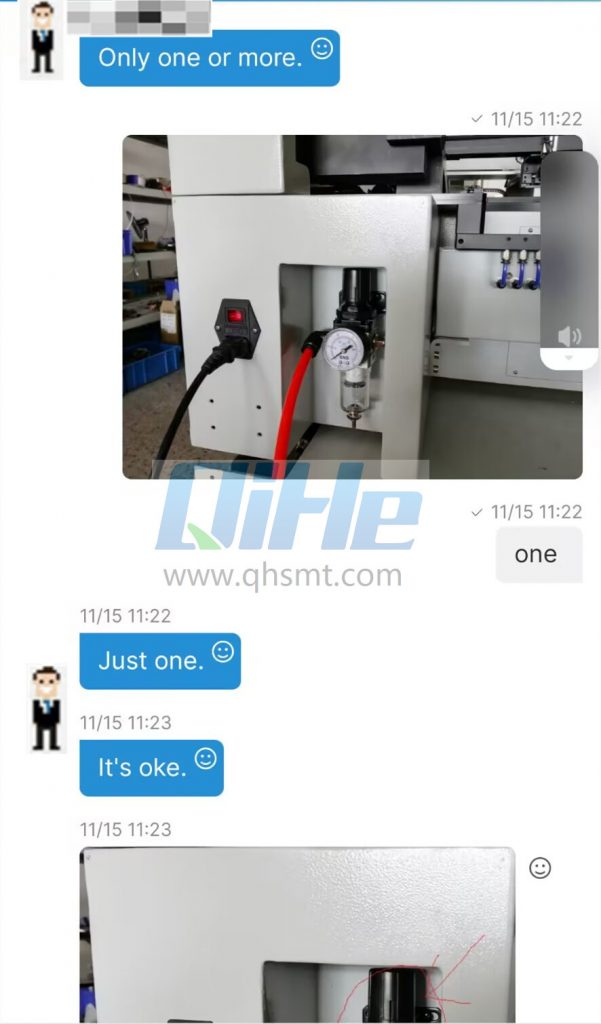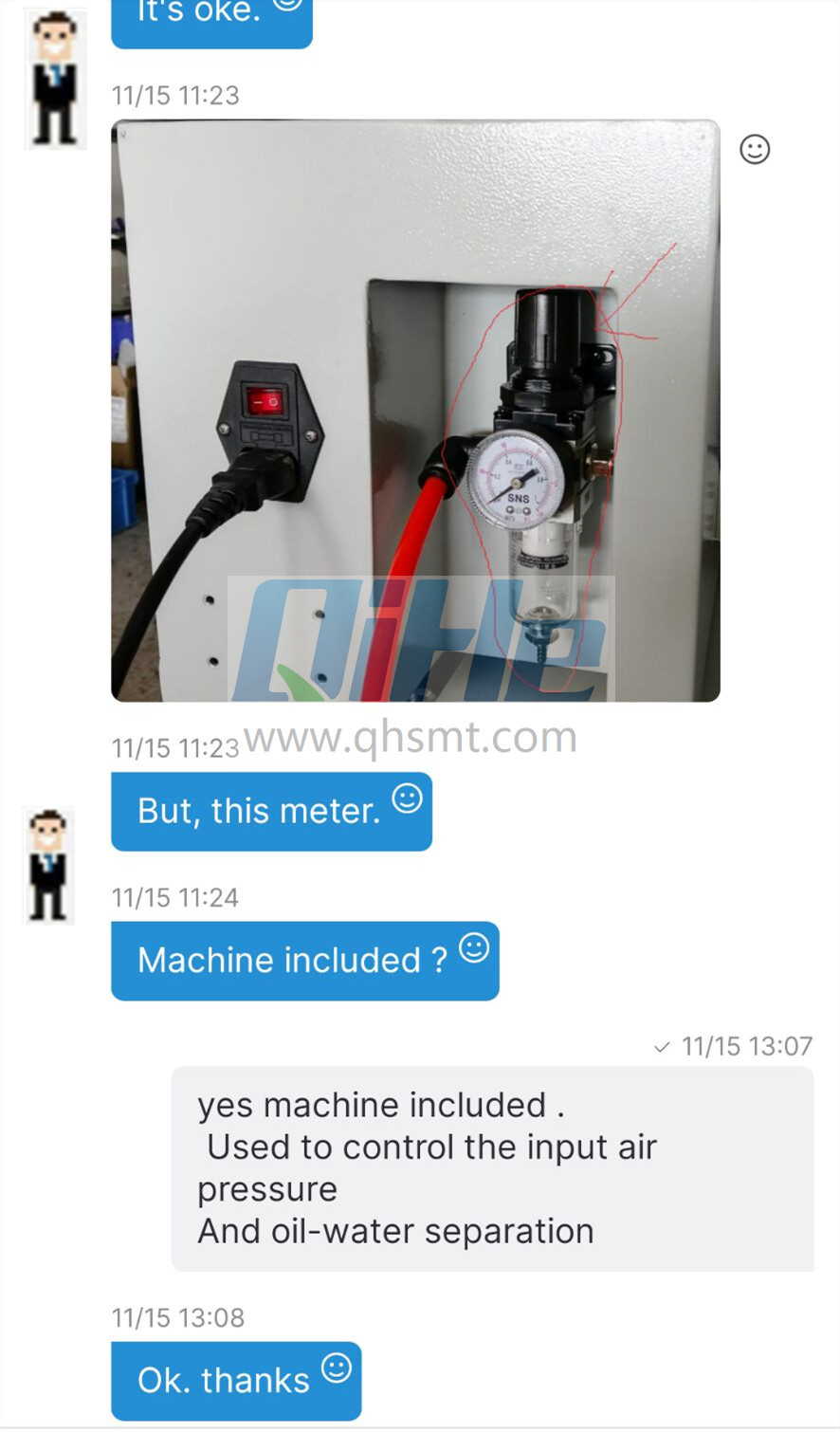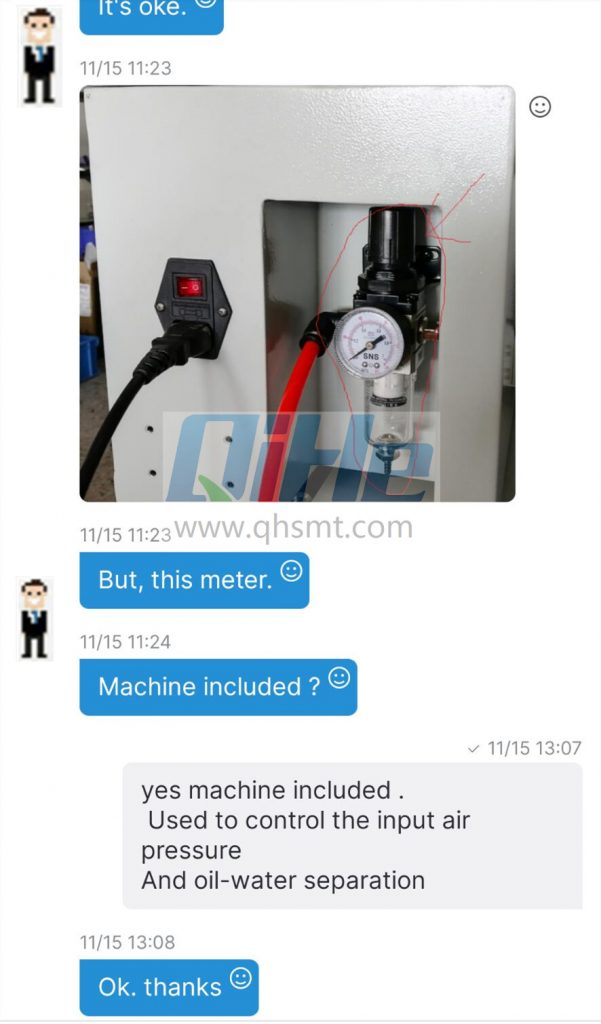 I hope this article can be helpful to everyone, and I hope you will support Qihe placement machine more
Best seller SMT Machine :Qihe smt line products
Read more

: Some adivce about Air supply for pick and place machine and Air compressor unit requirement
lighting exhibition in Ningbo blog
https://www.qhsmt.com/2023/05/08/lighting-exhibition-2023-qihe-smt-pick-and-place-machine-invitation/
What is SMT used for?
Surface mount technology is a part of the electronic assembly that deals with the mounting of electronic components to the surface of a PCB. Electronic components mounted this way are called surface-mounted devices (SMD). SMT was developed to minimize manufacturing costs while making efficient use of board space.Qihe SMT company develops and produces all kinds of SMT equipment suitable for world wide market, including pnp machine,reflow oven,stencil printer,pcb handling machines,and other products.
Small desktop pick and place machine TVM802A,TVM802B,TVM802AX,TVM802BX series suitable for beginners, for hobbiest or low vol usag.
Advanced level 4-head LED strip placement QL41 led machines and with rail universal series TVM925S,TVM926S,
Fully automatic 6-10-head placement QM61,QM62,QM81,QM10,machines, which are suitable for high volume mass production in factories.
Know more about us https://www.qhsmt.com/about-qihe-smt-equipment/
Follow us on social media https://www.facebook.com/Qihesmt/
WHAT IS SMT pick and place machine?
SMT (Surface Mounted Technology) is a comprehensive system engineering technology, which covers substrates, design, equipment, components, assembly processes, production accessories and management. When it comes to SMT pick and place machines, the automatic SMT production line requires automatic loading and unloading machine, automatic solder paste printing machine, placement machine, reflow soldering machine, AOI inspection equipment, conveyor,connecting table, etc. For these SMT assembly line equipment, Qihe SMT can offer you machines in prototype SMT line, small SMT production line, mass production SMT line at low SMT line cost. Contact us now if you are interested.
How to choose the right smt pick and place rmachine?
SMT Pick and place robots can execute virtually all smd material handling operations both cost-efficiently and effectively — With several designs and configurations available in the market, it can be challenging to pick one that suits your operational needs. To help you make the right decision, some factors and features you should look out for when purchasing a pick and place robot.The most important thing is the operating system, then the hardware configuration, the types of components supported, and the speed of operation, the accuracy of placement, and the smt setup cost of the entire smt line .
Qihe smt pick&place machine is a professional operating system independently developed. It has more than ten years of user experience, combined with the algorithm improvement of world-renowned colleges, and the most advanced flying camera and motion system. It is your best choice. The system is friendly for beginners and professionals.