Qihe team provides valuable SMT line equipment to give various disciplines college researchers and students hands-on experience.Also providing smt training courses for widely used in research and hobby .
Popular industrial university lab equipments like tvm802ax smt pick and place machine, tvm802bx pnp machine ,reflow oven qr962c,stencil printer qh3040, for smt line setup .
Update SMT Training Courses from the university lab :
Hands-on assembly of the tvm802 smt line devices
Under the guidance of Qihe engineers, the team teacher led the students to complete the assembly of the smt production line. We have completed the assembly and testing of the equipment before leaving the factory. In order to facilitate transportation, some parts that can be easily disassembled (such as reel tape support racks, power cords , IC tray, etc.), we will assemble and fix them in the plywood wooden box. After the user receives the goods, it can be quickly and easily reinstalled.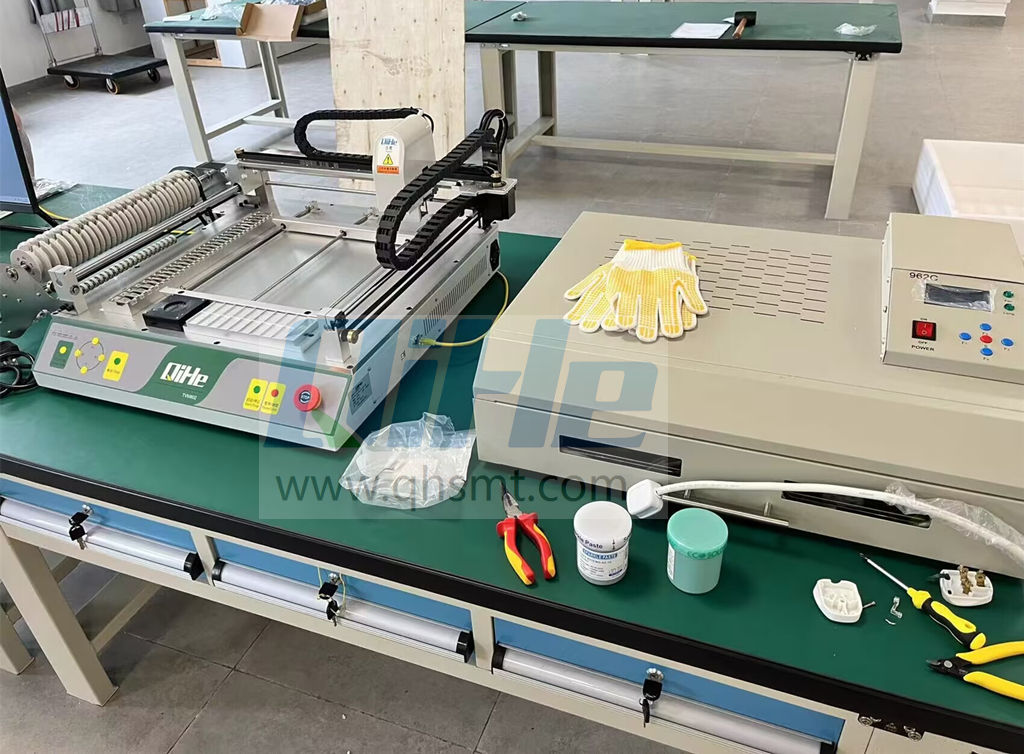 Learning devices functionality and smt assembly training
The students learned the operation steps of pcb stencil printing, the identification of different component types, the editing of placement files, the setting of various coordinate systems of the placement machine, the meaning and setting of various parameters of the visual camera, and solder paste different effects and abnormal troubleshooting, and the common useful skills of reflow ovens.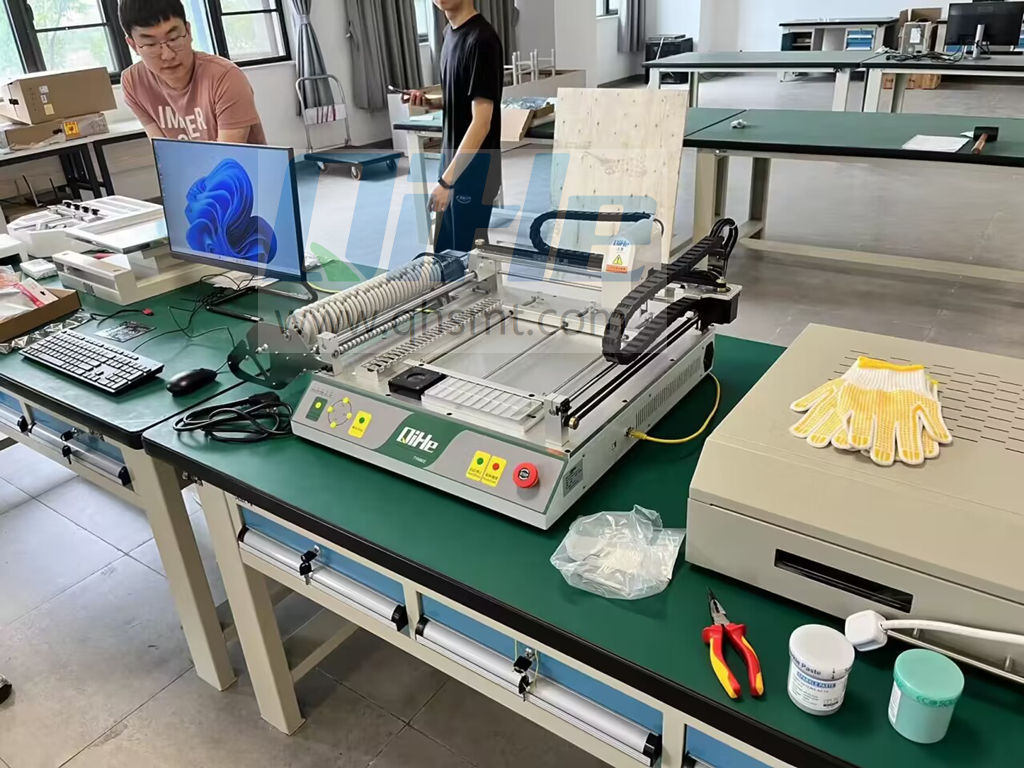 Grasping smt operator skills and smt software study
Combined with the smt operation skills just learned, the students are operating it by themselves.They lamented that this is a meaningful subject that can be of great help to their research and is widely used in research and life.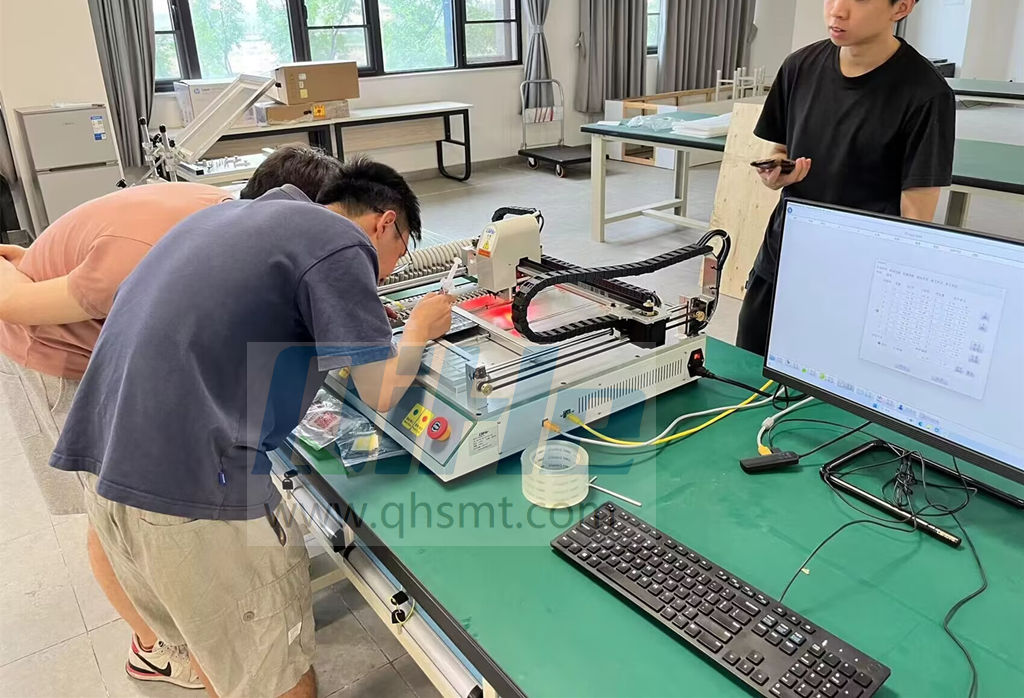 Smt training courses video
Do you also want to build a SMT studies center with low cost?
Best seller SMT Machine :Qihe smt line products
About QIHE SMT pick and place machine
QiHe Electrical Technology Co.,LTD is a high-tech company,which located in Economic Development Zone, Yueqing,China. We professional designing and producing all kinds of , pick and place machine,reflow oven,stencil printer, We also providing SMT solutions .Our Products playing a leading role in SMT industry. We have set a long lasting cooperation and partnership with global customers .Warmly welcome you to visit our company for friendship and cooperation.
Know more about us https://www.qhsmt.com/about-qihe-smt-equipment/
Follow us on social media https://www.facebook.com/Qihesmt/
WHAT IS SMT pick and place machine?
SMT (Surface Mounted Technology) is a comprehensive system engineering technology, which covers substrates, design, equipment, components, assembly processes, production accessories and management. When it comes to SMT pick and place machines, the automatic SMT production line requires automatic loading and unloading machine, automatic solder paste printing machine, placement machine, reflow soldering machine, AOI inspection equipment, conveyor,connecting table, etc. For these SMT assembly line equipment, Qihe SMT can offer you machines in prototype SMT line, small SMT production line, mass production SMT line at low SMT line cost. Contact us now if you are interested.
WHAT IS SMT ASSEMBLY LINE?
With the development of technology, future electronic products will be lighter, smaller and thinner. Traditional assembly technology can no longer meet the requirements of high-precision and high-density assembly. A new type of PCB assembly technology-SMT (Surface Mount Technology) has emerged. SMT Assembly is the use of automated machines to assemble electronic components on the surface of the circuit board. Its density, high speed, standardization and other characteristics occupies an absolute advantage in the field of circuit assembly technology. In addition, SMT assembly has a wide range of uses.