Whether it is production or replacement of PCB assembly, there will be some solder slag left on the circuit board. Pcb cleaning is necessary to clean up the solder slag so that it will not affect the use of the circuit board.If the main reason for the shrinkage of the circuit board resistors is to leave flux residues on the circuit board, it is recommended to repair and clean the process to ensure the stability of the circuit board.If it is necessary to use no-cleaning processing technology, it is necessary to test the technical stability of the no-cleaning circuit board welding process in accordance with the IPC-SF-818 specification.The purpose is to evaluate the impact of post-soldering residues on quality reliability.
Why cleaning smd weld spatter such important ?
After the PCBA soldering process, there will generally be some solder scars left by the solder on the circuit board, which will not endanger the application of the circuit board after cleaning.
With the development of science and technology and the improvement of professional and technical personnel, there are more and more ways to remove welding scars.
Remove the solder from the original circuit board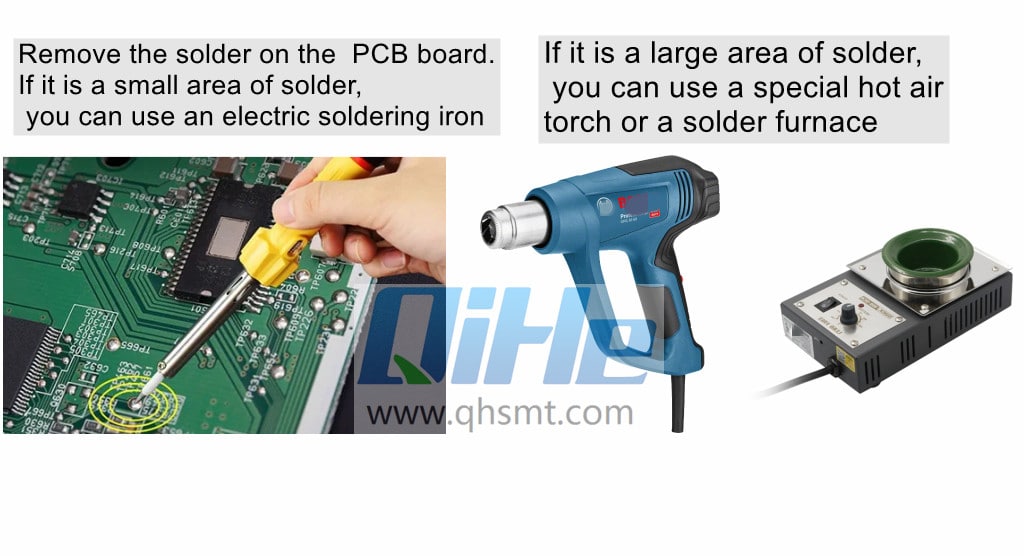 The first method
First shake off the solder in the soldering iron, and melt the solder again. It can be repeated several times
Find a short section of multi-strand wire, attach rosin, melt together with the circuit board soldering, and take the cable away while it is hot, you can remove the excess solder.
If it is a large area of solder, you can use a special hot air torch or a solder furnace.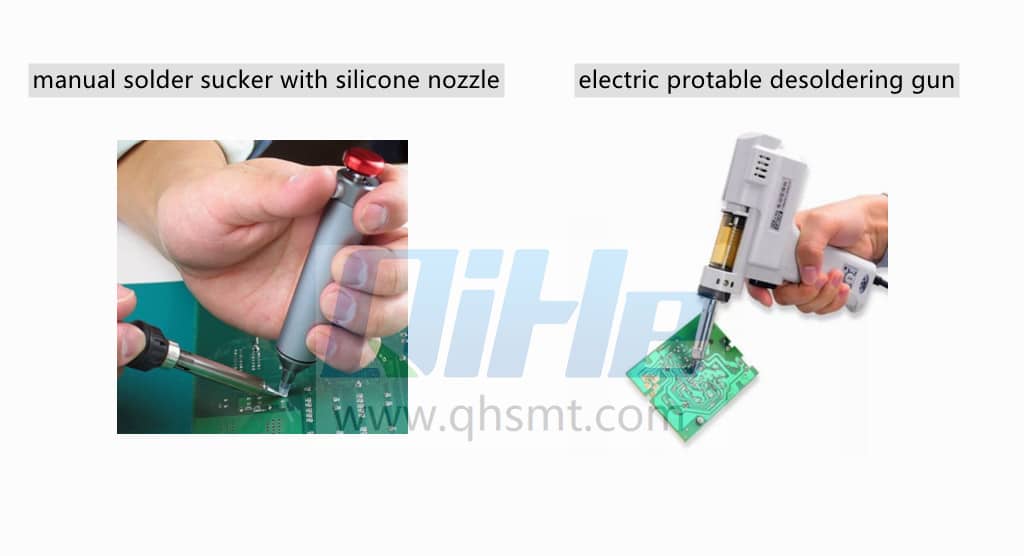 The second method
Clean up excess solder scars after circuit board soldering
Use industrial ethanol (or more than 95% ethanol), and use a soft brush dipped in ethanol to brush if it is very dirty.
Then blot with degreased cotton wool.
It is more convenient to use a tin suction device(protable desoldering gun,manual desoldering gun,electric desoldering gun,manual solder sucker,electric solder sucker), and the double-sided circuit board is more troublesome. Use the needle of the syringe to inject the soldering hole, insert and rotate the electric soldering iron after heating. Or take a piece of flexible wire (copper wire) and bring it up when it is melted.
If there is no tin suction device, you can quickly shake the printed board to shake off the tin slag while heating. Be sure to pay attention to safety and do not swing too much. When soldering with a soldering iron, remove the excess solder from the soldering iron tip to throw off the tin.
How to heat the solder
Hold the part on top of the pads using the tweezers and heat the pad using the soldering iron.
Apply heat on the joints in a circular motion. The iron will melt the paste. The flux will burn off.
Above is main content we sharing today . If you have more practical skills, please leave me a message in the message area below, and we will share them with you. I hope this will bring more convenience
Thanks
How to clean PCBs
For electronic printed circuit board (PCB) assembly, you will find isopropyl alcohol being used to clean flux residues from recently soldered circuit boards or in PCB repair and rework. Using pcb cleaner is the most way .
Best seller SMT Machine :Qihe smt line products
About QIHE SMT pick and place machine
QHSMT is an enterprise specializing in the production of SMT equipment, like pick and place machine ,reflow oven,stencil printer ,smt pick and place machine,pnp,pick&place,pcb assembly,smd chip shooter,pnp machine,chip mounter,smt line,welcome to send inquiry
you can choose a reflow oven to meets your need like qfr630,qrf835,qrf1235
stencil printer model qh3040,qp3250,qfa5060
Also we have different kinds of smt pick and place machine like tvm802a,tvm802b,tvm802ax,tvm802bx,tvm802b plus,tvm925s,tvm926s,ql41,qm61,qm62,qm81,qm10

What is SMT in engineering?
Surface mount technology is a part of the electronic assembly that deals with the mounting of electronic components to the surface of a PCB. Electronic components mounted this way are called surface-mounted devices (SMD). SMT was developed to minimize manufacturing costs while making efficient use of board space.Qihe SMT company develops and produces all kinds of SMT equipment suitable for world wide market, including pnp machine,reflow oven,stencil printer,pcb handling machines,and other products.
Small desktop pick and place machine TVM802A,TVM802B,TVM802AX,TVM802BX series suitable for beginners, for hobbiest or low vol usag.
Advanced level 4-head LED strip placement QL41 led machines and with rail universal series TVM925S,TVM926S,
Fully automatic 6-10-head placement QM61,QM62,QM81,QM10,machines, which are suitable for high volume mass production in factories.
Know more about us https://www.qhsmt.com/about-qihe-smt-equipment/
Follow us on social media https://www.facebook.com/Qihesmt/
WHAT IS SMT pick and place machine?
SMT (Surface Mounted Technology) is a comprehensive system engineering technology, which covers substrates, design, equipment, components, assembly processes, production accessories and management. When it comes to SMT pick and place machines, the automatic SMT production line requires automatic loading and unloading machine, automatic solder paste printing machine, placement machine, reflow soldering machine, AOI inspection equipment, conveyor,connecting table, etc. For these SMT assembly line equipment, Qihe SMT can offer you machines in prototype SMT line, small SMT production line, mass production SMT line at low SMT line cost. Contact us now if you are interested.
How to choose the right smt pick and place machine?
SMT Pick and place machine can execute virtually all smd material handling operations both cost-efficiently and effectively — With several designs and configurations available in the market, it can be challenging to pick one that suits your operational needs. To help you make the right decision, some factors and features you should look out for when purchasing a pick and place robot.The most important thing is the operating system, then the hardware configuration, the types of components supported, and the speed of operation, the accuracy of placement, and the smt setup cost of the entire smt line .
Qihe smt pick&place machine is a professional operating system independently developed. It has more than ten years of user experience, combined with the algorithm improvement of world-renowned colleges, and the most advanced flying camera and motion system. It is your best choice. The system is friendly for beginners and professionals.
WHAT IS SMT ASSEMBLY LINE?
With the development of technology, future electronic products will be lighter, smaller and thinner. Traditional assembly technology can no longer meet the requirements of high-precision and high-density assembly. A new type of PCB assembly technology-SMT (Surface Mount Technology) has emerged. SMT Assembly is the use of automated machines to assemble electronic components on the surface of the circuit board. Its density, high speed, standardization and other characteristics occupies an absolute advantage in the field of circuit assembly technology. In addition, SMT assembly has a wide range of uses.